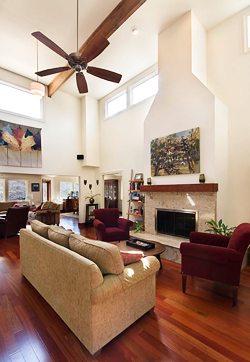 The measuring stick for a successful renovation is how well it blends with the existing structure. Whether you are planning an addition or making changes to an existing space, we can draft custom plans so your new area matches the architectural style of what's already in place and complements original materials.
 
And while beauty is nice, it's not the only thing that matters. Just as with our custom plans for building a new home, we will craft remodeling plans that ensure construction waste and cost are kept to a minimum and that your new space is as energy efficient and maintenance free as possible.
 
We have 45 years of experience drafting plans for renovations. We've worked on historical renovations and understand the restrictions and limitations that go along with this type of work. We also have experience remodeling homes that are on pier foundations (these are homes raised above ground), as is common in Louisiana and other coastal states.
 
What's The Process For Getting Custom Plans for My Remodel?
We'll first need to set up an appointment to come out to your home to look at the site and get all the information we need. This appointment is called an initial consultation. Although there is a small fee for this initial consultation, this in no way obligates you to retain our services. We ask that all decision makers be present during this initial consultation so we can incorporate all ideas. We really need to hear from everyone involved in the remodeling project.
 
We'll let you ask any questions you have, and we'll ask you how you plan to use the space and make suggestions accordingly. Then we'll do a sketch of your new space and put together a cost estimate for preparing a custom set of plans. If you decide to hire us, we'll have another meeting to sign a contract and review what we discussed in our initial meeting. It's likely that some of your ideas for the new space have changed since the last time we met after more careful consideration, and that's no problem.
 
Next, we'll prepare a preliminary plan for your review. You can study the spaces to see if the layout and size makes sense for the furniture you'd like to put in it. Some people hire an interior designer at this point for their advice on design features, though this is certainly not necessary. This is a good time to talk to contractors and ensure the budget is in line with the preliminary. 
 
After you've reviewed the preliminary plans, we'll meet again and you can show us any changes you'd like to make. We can go through a few rounds of revisions until you get what you are looking for.Then, we'll revise the final plans and print them for you.
 
We're still here if you need us during the construction process or if your permit office requires further drawings. We'll take care of those things at no additional cost. Quality work and customer satisfaction are top priority.
 
Just Need Advice For Peace Of Mind Before You Begin Your Remodel?
If you do not have a need for custom plans for your new home or renovation but just need a professional to consult with before you start work, we can do that too. You may want to have an expert listen to what you plan to do with your remodel and offer advice.
For instance, you may need to know whether a wall you plan to knock down is load-bearing and, if so, how you would go about changing it.  Or, you may just want a second opinion on plans you've already had drawn.
Give us a call or send us an e-mail and tell us your situation. We will give you a quote for consulting with us.