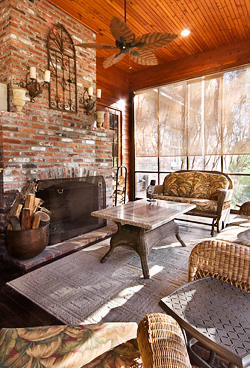 What steps are involved in getting custom home plans? How much do you charge to come meet with you and tell you about my dream home? Those questions and more are answered below as we tell you step-by-step what to expect from the time you contact us to set up a meeting to the time construction on your new home gets underway.
 
Step 1: Make An Appointment
Give us a call or send us an e-mail. We'd love to set up a time to chat with you, also known as our initial consultation meeting. This initial meeting typically last one and a half to two hours and, has a small associated fee. This initial consultation, in no way obligates you to retain our services. The meeting is to get to know you and your family's needs. We will listen to what you have in mind, answer any questions you may have and make suggestions. The suggestions are not meant to make changes to your ideas but give you a full palatte of ideas to choose from.
Step 2: Review Initial Consultation Workbook
When you set up an initial meeting with us, we'll e-mail you our initial consultation workbook. It's kind of like homework, but it's fun homework. It includes reading information about our company and filling out some worksheets that help you get an idea of how much home you'd like to build and the types of features that matter to you. A lot of it you'll be able to fill in right away because it involves the details you've been thinking about for a long time. Some of the information may be new to you and make you consider things you hadn't thought of before.
 
Step 3: Gather Your Idea File And Home Site Information
Your "idea file" is that thick binder or computer file filled with magazine clippings, images, links to pins or electronic idea books and articles pertaining to what you need and want in your future home. Or perhaps it's just those notes you jotted down when you had a few minutes of quiet time and could brainstorm features you desired in your new home. Whatever you've got, bring it in. We want to see it. Also, bring any and all information you have about the home site you have already purchased or are thinking of purchasing. The land you choose to put your home on significantly impacts your home's layout.
 
Step 4: Attend Your Initial Consultation
In order to have the most productive visit, we do ask that all key decision makers attend this meeting. If it's just you calling all the shots, that's great. But be sure to bring your spouse or partner in with you if both of you will be making decisions that affect the home plan.
 
During the meeting, we'll take a look at the features of the home site you've chosen. We want to know if it slopes, has trees, is in a flood zone, what direction it faces and several other factors that influence what kind of house will go on top of it.
 
Then we'll go through your day-to-day routine to determine the rooms and home features that would most suit you. We will sketch out a floor plan and elevation of your new home, incorporating as many of your preferred features as possible. We will sketch out every room and also the front of your home based on our discussion.
 
We'll let you ask any questions you may have and browse several sets of home plans prepared by our firm so you can see what to expect when we deliver completed plans and specifications. We will put together a proposal that includes an estimate of how many hours it will take us to prepare your complete set of plans and specifications and how much this will cost. Our fees are not based on square footage but rather have to do with the time required to complete the job.
Step 5: You Decide Whether Or Not to Hire Us
Take some time to think it over, and feel free to contact us with any questions. This is a very important decision, and we hope we've shown you that we have the knowledge and experience to draft a home plan that you'll not only love but one that will result in having the most structurally-sound, maintenance-free and energy-efficient home possible.
 
Step 6: Meet Again To Sign Contract And Review Notes From First Meeting
You've probably been going over (and over) things in your head since our first meeting, and we know it's likely that people change their minds on things after more careful consideration. Some of the ideas you presented perhaps are no longer what you want. No problem! Tell us about it. We'll change it.
 
Once you've decided to retain our services, we'll sign a contract based on the quote we've given you and receive our retainer fee. We'll also go over dates of completion for the preliminary and final plans so we're operating on a clear timeline. Once the retainer fee has been depleted, you will be billed bi-weekly for services rendered.
 
Step 7: A Preliminary Plan
Custom Home Designs will prepare a preliminary draft that includes a floor plan (breakdown of rooms and square footage) and front elevation (what your home looks like from the street). If required, we'll also do a section drawing, which is what your home would look like if you sliced a section off and looked inside. It shows details like timber sizes and room heights. Then, we'll hand it over to you.
 
Step 8: Take Home And Review Preliminary Plan
Carefully review the preliminary plan and let us know what you think. In addition to the preliminary plan, we'll also give you a worksheet. It includes a page of furniture that you can cut out and move around in your rooms to make sure the rooms have the proper layout and are the correct size for the furniture you want to put in them.
At this time, you'll also begin picking out details like moldings, doors, windows and the type of exterior finishes you would like. We'll also start asking you about your preferences for an A/C unit, water heater, appliances and insulation.
 
This is an excellent time to meet with a builder (or several) to get an idea of the cost of construction. It's also a great time to bring in a landscape architect or an interior designer if you'd like professional advice on the location of furniture and various design features like cabinets and countertops. Or, invite friends and relatives over to get their opinions and input.
 
Step 9: Meet Again And Draft Second Preliminary
Bring in your first preliminary plan marked up with any changes and we'll make the necessary revisions. If more than one round of revisions is necessary to get things the way you'd like them, no problem. When you're ready, we'll move on to final plans.
 
Step 10: Meet To Review Final Plans Before They Are Printed
Your final plans are now ready, with all of the details and elements including:
Floor Plan
Foundation Plan
Electrical Plan
Framing Plans (Floor, ceiling and roof)
Heat and Air Conditioning Plans
Sections
Elevations
Interior Cabinet Details
Closet Details
Site Plan
Specifications
Before we send your plans for final printing, we need to make sure they are exactly as you want them. That is what this final review meeting is for. We invite your builder to come in with you to read the entire set of plans so everyone is on the same page.
 
This meeting usually lasts about 5 hours. This meeting is intended to encourage a full and thoughtful examination of plans and specifications by all parties.
 
We'll make any necessary changes at this time to finalize things, whether it's adding more outlets to meet your needs or moving a ceiling fan. Then we will revise, print and deliver them to you.
Step 11: Call Us If You Need Us!
We're still here for you if a question arises or you feel like you don't have everything you need. If the builder has a question during construction, give us a call and we'll get you an answer. If there's a question we cannot answer over the phone, we'll go out to your site and resolve the issue. Quality work and customer satisfaction are our top priority.