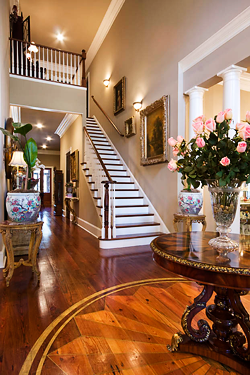 Having an energy efficient home saves you money and eliminates wasteful consumption. 
 
Custom Home Designs uses the latest computer software to guarantee that your home will have the industry standard in heating and cooling efficiency, keeping your energy costs to a minimum. We generate an electronic model of your home and plug in important variables like the shape and orientation of the house and the details of the types of materials that will be used to build it. 
 
We use these variables along with detailed climate information for your area to calculate key indicators of how energy efficient your home will be, such as the home's internal heat gain and loss, moisture content, air leakage rate and ventilation and infiltration load. We'll do all the complex calculations for you and provide you with a comprehensive home energy analysis. 
Getting the Best Value for Your Dollar
Our calculation system will ensure you're getting the best value when it comes to insulation, windows, lighting design, HVAC unit size and features and much more.
 
If you have a strong desire to use a specific type of insulation, window or other material, we can put that variable into our system and see how it affects the overall energy rating of your house. We can experiment with any mixture of types of walls, windows, doors, roofs, and window shadings. That will help you make the most informed decision possible with regard to what materials go into building your home.  
Energy Rebates and Incentives
Custom Home Designs will give you the information you need to take advantage of federal and state energy incentive programs that will further save you money. We'll provide you with a report that demonstrates compliance and also serves as a guide to properly installing the energy-saving features that have been incorporated into your home. 
 
The state of Louisiana offers significant tax incentives that can require having an energy rating performed during the construction process by a state approved energy rater. We can send the calculations that make up our home energy analysis to the energy rater, who has compatible software and can import the details and numbers into their system. This saves the energy rater a step in the process and, in turn, lowers the price of hiring the energy rater. 
Nothing is Wasted
We also strive to produce a home design that will lead to being environmentally friendly and energy efficient during the home building process.  Have you ever noticed the trash piles at home construction sites? That waste leads to paying more for less housing. 
 
Your home design will be drawn to modular material dimensions, meaning all materials purchased to construct the home are used as efficiently as possible. The concept of modular measurement conserves materials and cuts down on cost and labor. 
 
When we are drawing out your home, we're carefully keeping in mind the size of standard building products. A lot of time, material, labor and energy is wasted when a carpenter has to produce trash.
It's An Important and Exciting Time!
Building a home means you'll be there during a crucial time when important energy-saving decisions are made. We're here to help you make those decisions wisely. Remember, making changes to an existing home to make it more energy efficient is far more costly than doing it right the first time.