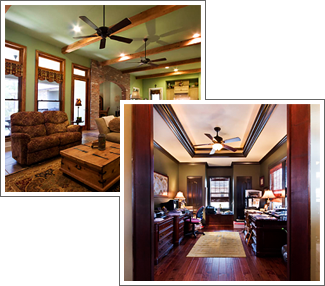 Custom Home Designs has been in business since 1993 with the mission of preparing complete home plans and specifications based on the unique needs and desires of each individual owner while maintaining maximum economic efficiency.

Draftsman and planning consultant John Guillory has more than 45 years of experience in his field and has worked on over 3,000 projects involving custom plans for new homes and home renovations. He has drawn houses in Japan, Costa Rica, Spain and Central America. While his work has taken him abroad, he now focuses mainly on creating plans for homes in the Southeastern portion of the United States and has vast experience with the codes and regulations for building there.
---
The Latest in Drafting Technology
Custom Home Designs uses the latest computer drafting software to ensure your home is as beautiful, practical and efficient as possible. Some of the many benefits of our computer-aided drafting services include:
Accurate drawings with precision in dimensioning: Your home plan is drawn to scale and to lumber modulars. This ensures accuracy and eliminates wasted construction materials.
Maximum creativity: With so many options for the types of features your home will have – from windows to cabinets to insulation – the possibilities seem endless! Upon request, we can even create 3D renderings for a comprehensive photo-realistic "walkthrough" of your home.
Efficient design process: We store every draft in our system and can easily move from drawing to drawing to show you how your home design has evolved with every refinement made during the design process. This makes communicating project information as effective as possible so our meetings can be truly productive.
Complex calculations are no longer so complex: While you're having fun picking out all the features of your home, our software is generating calculations based on those features to tell you the true energy efficiency of your home. See in real-time how changing the type or location of windows or selecting another type of insulation affects your home's energy efficiency.
Keeping Up With the Times: An Interview with John Guillory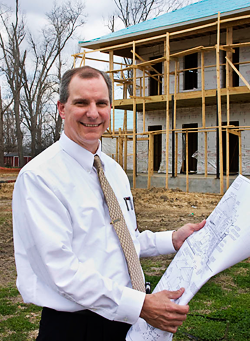 At Custom Home Designs, we are constantly adapting to meet the needs of today's homebuyers.

"Things have really changed in my field over the years," says Custom Home Designs owner John Guillory. "Over the past few decades, I saw houses getting bigger and bigger until everyone seemed to have a gigantic house – also known as a McMansion – that wasn't very energy efficient and was not a great use of space. Houses had many rooms, but they all seemed generic and didn't really take into account how the family functions. Residential design nowadays is much more about having a home that utilizes space wisely, is cost-effective and conserves resources given the more cautious environment we're living in."

He says that with smaller spaces, there's a need to design homes for maximum organization. "For example, I always ask clients how they will be entering the home and what they will need to put down at that time. It's important to outfit entryways for storage, whether it's to put away the kids' sports equipment or for storing dog leashes," Guillory notes. "I also ask my clients what they do with their mail. We know that the first flat surface that exists upon entering the home is usually where the mail piles up. So I make sure to tell my clients about various types of staging desks that can help them keep their home as organized as possible."

Guillory adds that as homeowners are looking to maximize the space they have, he's also seeing more interest in "Flex rooms/ spaces." These are rooms that are flexible enough to accommodate many different activities, from video gaming to exercising to a home office space. "We have a lot of experience with designing family spaces that include home theaters with audio-visual equipment closets and space for gaming systems. These are the rooms that today's families are getting hours of enjoyment out of."

Energy-efficient heating and cooling systems are also important to today's homeowner, Guillory says. "Our energy modeling software evaluates the overall energy rating of the home. It is a very useful tool."